manufacturers extrusion dies crosshead for production insulation tube
Made in

Taiwan
manufacturers extrusion dies crosshead for production insulation tube
Spec
Concentricity:±5μ(0.0002")
Marking area:High definition laser marking area
ODM:Acceptable
OEM:Acceptable
Key Features
Use SPIDER EXTRUSION mold to produce foam insulation tube coating
Can make your production line quality maintain a stable yield,
Satisfy customers' needs for different thicknesses
Coating type:
1. Use SPIDER EXTRUSION mold to produce extra-thick foam coating layer, particularly strong heat insulation tube function, effectively slow down the heat-dissipation rate of water in the tube, and extend the time when the hot water in the tube is maintained at a high temperature. Show superior insulation tube effect. Heat energy and energy consumption are the lowest. It is both environmentally friendly and economical.
2. Use SPIDER EXTRUSION mold to produce super-thick coating layer, with the most superior characteristics of corrosion resistance, acid and alkali resistance, weather resistance, and drug resistance. The use of Mingguan is not affected by the surrounding environment and the normal operation of the storage road will be ensured.
2. Use SPIDER EXTRUSION mold to produce the special thick foam coating layer effectively reduces the high temperature of the outer layer of the bright tube, avoids burns and the high temperature of the human body and affects the function of the surrounding facilities.
characteristic
●Cold-keeping, anti-condensation,Moisturizing
● weather resistance, Fire resistance,acid and alkali resistance
●Excellent marginality to avoid contact with different metals to produce electrical corrosion
●Prevention of wall cancer in buildings, aging of concrete, raised tiles

Scope of application
●Hot and cold room insulation tube ,Cold water, hot water
●Air-conditioning piping and Refrigeration
●Underground pipelines
●Medical tubing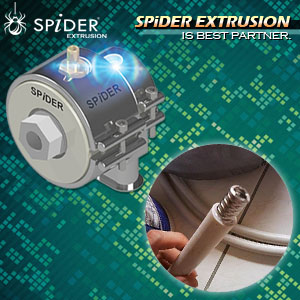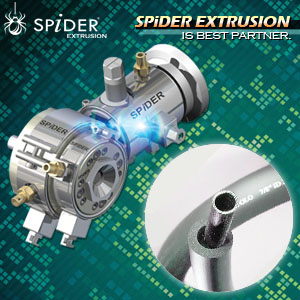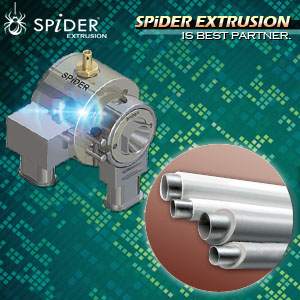 Contact me now I'm Online
skype:ashin.chung
Twitter https://twitter.com/SpiderExtrusion
Linkedin https://www.linkedin.com/in/spiderextrusion
Google plus https://plus.google.com/u/0/110466745260693019079
Youtube https://www.youtube.com/channel/UCL-kZL7bQEQkRwUw8O3CnFw
Facebook https://www.facebook.com/spider.extrusion/

Please provide the following information:
Bore diameter in mm/inches and quantity required
Drawing to be provided by the customer
Material to be extruded (PVC, PE, rubber, etc…)
Material preferred in the tools (if not we will suggest the most suitable one)
※ In case of doubt, contact us for assistance in choosing the most suitable material for your extrusion tools.
※ In case no tool drawing is available, send us a used wire guide or extrusion die.
※ Please sent your drawing for quotation if you have any interest.
To know us more, please visit www.spider.com.tw

According to customer needs in the choice of material selection
(1)Special steel alloys
(2)Nitrided steel
(3)Hardened steel
(4)Alloy for fluoropolymer
(5)100%Tungsten carbide
(6)Steel with tungsten carbide insert
(7)Steel with diamond insert
(8)Steel with ceramic insert

Accurate concentricity
SPiDER is worldwide leading manufacturer of Extrusion Tooling.
SPiDER can achieve is ±5μ(0.0002")for O.D., I.D.,concentricity and roundness etc.
Shortest delivery
Our most precision machinery, coupled with the most specialized technicians and stringent quality control, ensures that our customers receive their finished products within the shortest time.
High gloss polished Extrusion Tooling
Dies and Tips want to produce perform best,highly polished flow channels is the key.Extrusion tooling requires ground and lapped to a mirror finish, will can achieve better extrusion utility and better flow.
Marking area
High definition laser marking area with diameter and other important customer details (upon client request)

If you have any further Questions,please contact us at anytime.
We do our best to response our customers immediately.
It would be our pleasure to have long-term cooperation with you,thanks in advance!
Please sent your drawing for quotation if you have any interest.
To know us more, please visit www.spider.com.tw
Contact me now I'm Online
skype:ashin.chung
Twitter https://twitter.com/SpiderExtrusion
Linkedin https://www.linkedin.com/in/spiderextrusion
Google plus https://plus.google.com/u/0/110466745260693019079
Youtube https://www.youtube.com/channel/UCL-kZL7bQEQkRwUw8O3CnFw
---