extrusion custom network cables corp aluminum casting die
Made in

Taiwan
Extrusion dies mold mould for Wire
Spec
Concentricity:±5μ(0.0002")
Marking area:High definition laser marking area
ODM:Acceptable
OEM:Acceptable
Key Features
Click here to find out more

SPIDER EXTRUSION mould production production medical tube Material: High transparency Medical use FDA silicone
SPIDER EXTRUSION mould production medical tube Color: High Transparency
SPIDER EXTRUSION mould production medical tube characteristic:Aging resistance, Chemical resistance.




Click Blogger to find us on

Click Youtube to find us on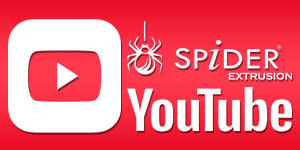 Click Facebook to find us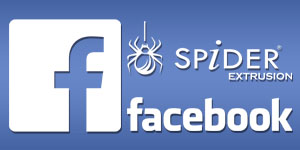 Click Twitter to find us on
Click Linkedin to find us on
Contact me now I'm Online
s

kype:ashin.chung

Please provide the following information:
Bore diameter in mm/inches and quantity required
Drawing to be provided by the customer
Material to be extruded (PVC, PE, rubber, etc…)
Material preferred in the tools (if not we will suggest the most suitable one)
※ In case of doubt, contact us for assistance in choosing the most suitable material for your extrusion tools.
※ In case no tool drawing is available, send us a used wire guide or extrusion die.
※ Please sent your drawing for quotation if you have any interest.

According to customer needs in the choice of material selection
(1)Special steel alloys
(2)Nitrided steel
(3)Hardened steel
(4)Alloy for fluoropolymer
(5)100%Tungsten carbide
(6)Steel with tungsten carbide insert
(7)Steel with diamond insert
(8)Steel with ceramic insert

SPIDER EXTRUSION PRODUCT APPLICATION : Copper And Aluminum Rod
SPIDER EXTRUSION Application industry : Aerospace、Automotive、Building、Communication、Control Cables、Infrastructure、Mining、Oil & Gas、Renewable Energy、Ship / Marine Cables
A wide range of products has its starting point in a rod of copper, aluminium and relevant alloys. Rods are the raw material for electrical applications such as electrical cables (i.e. power transmission, building, control and instrumentation, data and communication, automotive etc.), contact wire, magnet wire, pins and connectors; mechanical applications such as welding wire, wire for meshes and fastener. Other applications are textile wire, wire for food industry and jewellery.
In a high competitive market the development of new applications, price pressure and increase of product quality led wire manufacturers ask increased characteristics without losing conductivity. This led rod suppliers develop new copper and aluminium alloys. For example, copper alloys, such as CuSn, CuMg and CuAg, have been developed for automotive cable; High Temperature Aluminium Alloys have been developed for overhead conductor lines with round and shaped wires.
Rod production technology and equipment depend on the rod production range and on the required output. The most diffused technologies are the Continuous Casting Rolling technology (CCR) and the Upward Vertical Continuous Casting technology (UVCC). The continuous development of these technologies resulted in high quality rods in terms of chemical composition, mechanical and electrical properties, less impurities and lower overall processing costs.
Being in the wire and cable sector since decades, we provide you with consolidated, flexible and high quality solutions to overcome market challenges. SPiDER Rod Breakdown Platform includes compact and tandem rod breakdown, single or twin wire, single motor and multimotor machines. The platform is completed by a wide range of annealers, coiling and spooling systems.

Accurate concentricity
SPiDER is worldwide leading manufacturer of Extrusion Tooling.
SPiDER can achieve is ±5μ(0.0002")for O.D., I.D.,concentricity and roundness etc.
Shortest delivery
Our most precision machinery, coupled with the most specialized technicians and stringent quality control, ensures that our customers receive their finished products within the shortest time.
High gloss polished Extrusion Tooling
Dies and Tips want to produce perform best,highly polished flow channels is the key.Extrusion tooling requires ground and lapped to a mirror finish, will can achieve better extrusion utility and better flow.
Marking area
High definition laser marking area with diameter and other important customer details (upon client request).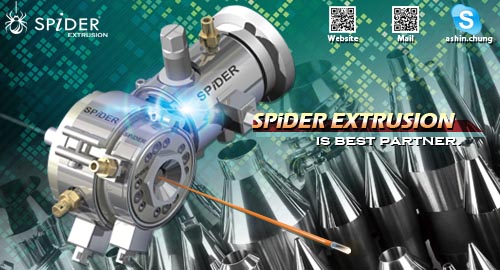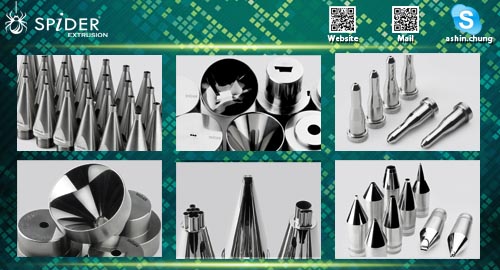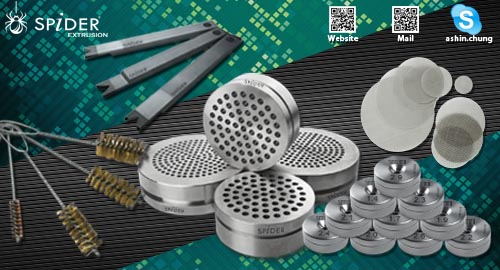 If you have any further Questions,please contact us at anytime.
We do our best to response our customers immediately.
It would be our pleasure to have long-term cooperation with you,thanks in advance!
Please sent your drawing for quotation if you have any interest.
---