Usb data cable extrusion die mold mould
Made in

Taiwan
Extrusion for Cable
Spec
Concentricity:±5μ(0.0002")
Marking area:High definition laser marking area
ODM:Acceptable
OEM:Acceptable
Key Features
Click here to find out more

SPIDER EXTRUSION mould production production medical tube Material: High transparency Medical use FDA silicone
SPIDER EXTRUSION mould production medical tube Color: High Transparency
SPIDER EXTRUSION mould production medical tube characteristic:Aging resistance, Chemical resistance.




Click Blogger to find us on

Click Youtube to find us on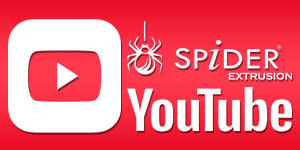 Click Facebook to find us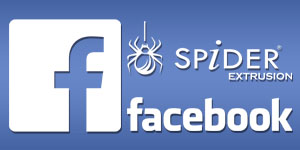 Click Twitter to find us on
Click Linkedin to find us on
Contact me now I'm Online
s

kype:ashin.chung

Please provide the following information:
Bore diameter in mm/inches and quantity required
Drawing to be provided by the customer
Material to be extruded (PVC, PE, rubber, etc…)
Material preferred in the tools (if not we will suggest the most suitable one)
※ In case of doubt, contact us for assistance in choosing the most suitable material for your extrusion tools.
※ In case no tool drawing is available, send us a used wire guide or extrusion die.
※ Please sent your drawing for quotation if you have any interest.

According to customer needs in the choice of material selection
(1)Special steel alloys
(2)Nitrided steel
(3)Hardened steel
(4)Alloy for fluoropolymer
(5)100%Tungsten carbide
(6)Steel with tungsten carbide insert
(7)Steel with diamond insert
(8)Steel with ceramic insert

SPIDER EXTRUSION PRODUCT APPLICATION : Steel Wire Ropes
SPIDER EXTRUSION APPLICATION INDUSTRY :Communication、Infrastructure
Steel wire ropes are widely used in many applications such as crane, tower crane, surface and underground mining, excavation, logging of any type of terrain, tramway, elevator, oil and gas, drilling, marine and electrical constructions.
The selection of a rope must consider the strength, fatigue and abrasion resistance, crushing resistance, resistance to metal loss and deformation, resistance to rotation and the operating conditions. A special designed is required in particularly unusual operating conditions.
The type of wire used affects wire rope performances. High carbon steel bright (uncoated) wire is the material most commonly used. To improve corrosion resistance, galvanized wire or stainless steel 18/8 is used in those applications where high resistance to corrosion is required.
In some applications, where a cleaner operation or longer service life is required, a plastic impregnated wire rope is used. In other applications, wire ropes are coated with nylon or other plastic materials. This coating extends the life and protects the rope against abrasion, seals, dirt, moisture, corrosion etc. Another advantage is the protection against abrasion of pulleys and drums.
SPiDER Extrusion Line for Steel Wire Products offers you a complete platform for flexible and high quality solutions to overcome market challenges.

Accurate concentricity
SPiDER is worldwide leading manufacturer of Extrusion Tooling.
SPiDER can achieve is ±5μ(0.0002")for O.D., I.D.,concentricity and roundness etc.
Shortest delivery
Our most precision machinery, coupled with the most specialized technicians and stringent quality control, ensures that our customers receive their finished products within the shortest time.
High gloss polished Extrusion Tooling
Dies and Tips want to produce perform best,highly polished flow channels is the key.Extrusion tooling requires ground and lapped to a mirror finish, will can achieve better extrusion utility and better flow.
Marking area
High definition laser marking area with diameter and other important customer details (upon client request).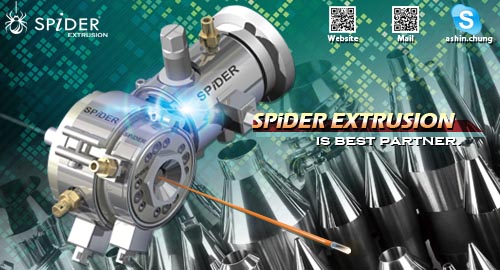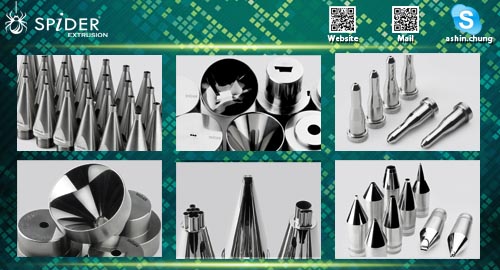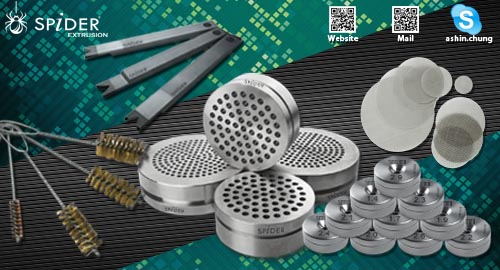 If you have any further Questions,please contact us at anytime.
We do our best to response our customers immediately.
It would be our pleasure to have long-term cooperation with you,thanks in advance!
Please sent your drawing for quotation if you have any interest.
Payment Details
Payment Terms:TT
Minimum Order:1 Piece(s)
---